High temperature insulation solutions
High temperature insulation solutions
SoliWool is the brand of the first Generation III, Ultra Low Shot high temperature insulation. The SoliWool product range consists of engineered bulk fiber, high strength and smooth blankets, dust free and smooth papers, flexible felts, high tech manufacturered board products, tailored to shape vacuum formed shapes and one of the widest ranges of fiber modules.
Vulcor Insulation is proud to introduce you the is bringing you the latest generation high temperature fiber products. Ultra low shot, Generation III, fiber products which are delivering better thermal insulation values, higher strength and better handling. Everything tested, verified and correctly certified to make sure your getting the best performance products and as result; customer satisfaction. And yes, we are talking here about high temperature fiber insulation.
Temperature range
The SoliWool product range is one of the most comprehensive of all high temperature fiber manufacturers. With 5 main chemical compositions in Refractory Ceramic Fiber a Low Bio Persistence Fiber (also called Alkaline Earth Silicate fibers) and a Poly Crystalline Fiber based composition we provide high temperature fiber solution solutions to nearly all challenge in the industry.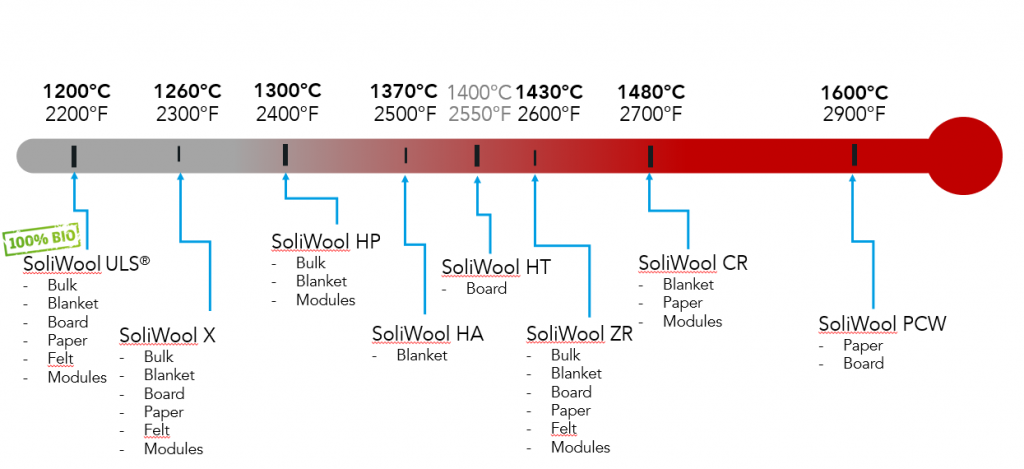 With the SoliWool product range we do not only cover a temperature range from 1200 to 1600 C (2200 to 2900 F), but we also developed some unique products which are developed for durability and performance in special atmospheres. A great example is our SoliWool HA blanket which is a SPUN high alumina blanket with a classification temperature of 1370 C (2500 F) without the use of Zirconia. Not only does the SoliWool HA perform better in atmospheres with higher alkali pollution, it also features the ultra low shot technology of the Generation III fiber.
Vulcor Insulation is one of an exclusive group of suppliers which have completed their REACH registration and for that reason comply with the European regulations for import of high temperature fibers. Our low bio persistence fibers (LBP) meet the requirements specified under NOTE Q of European Regulation 1272/2008 and have been fully tested by Fraunhofer.
Product
SoliBulk
The SoliBulk product range is the basis of nearly all our products as the majority of our bulk production gets converted at our own factory. We offer our SoliBulk in a wide variety of specifications tailored to the commonly known applications from raw material for Vacuum Forming to general lubricated bulk which can be used for filling and stuffing voids and gaps in furnace linings. To ensure that the products are meeting the requirements in the application we also provide special grades which can be deshotted, chopped, or provided at extra length.
The SoliBulk can be used for a large varity of applications using secondary processing like: Vacuum Formed shapes, yarn and rope manufacturing, reinforcement of insulating castables, raw material for mastics and coatings, blown or injected fiber for double wall chimneys and infill for airgaps and cavities in furnaces.
All products offered in the SoliBulk product range share the Ultra Low Shot technology which has been developed to achieve the highest possible thermal insulation value, provides a extremely high fiber index, and specifically for the SoliBulk to differentiate from other suppliers with a higher yield in secondary processing.
With our latest equipment we are able to supply our bulk fiber products in tight and compressed shrinkwrap bags which are allow minimizing time required for unpacking whilst ensuring maximum consistency of the fiber length troughout the bag.
Product
SoliBlanket
With a variety of five Refractory Ceramic Fiber (RCF) grades and the famous 'ULS®' Low Bio Persistence Fiber grade we are offering one of the most extensive ranges of high temperature fiber blankets in the market today. With our  different chemical compositions we are able to provide a solution to nearly every atmosphere or temperature.
Our five SoliBlanket RCF grades all function till another classification temperature, but the difference go much further than that. All the different SoliBlanket RCF grades have specific applications and atmospheres where they perform strongest. Were a standard X-grade or ZR-grade blanket is mainly used as a general purpose blanket, the HP-grade, HA-grade and the CR-grade are developed to work in very specific applications.
A special notice for our Low Bio Persistence fiber grade, the SoliBlanket ULS. The SoliBlanket ULS is manufactured to the latest Generation III, or Ultra Low Shot technology. As a result the SoliBlanket ULS   offers a better thermal insulation performance, higher strength, can withstand higher gas velocities, offers more resiliency after compression and smoother handling during the installation.
The SoliBlanket products are available in a wide range of dimensions and densities from 64 kg/m3 to 160 kg/m3 (4 to10 PCF) and thicknesses from 6 to 50 mm (1/4 to 2 inch). Special grades like the SoliBlanket HP- grade, HA-grade and CR-grade are only available in the density range 96 kg/m3 and 128 kg/m3 (6 and 8 PCF) and a condensed thickness range from 13 to 50 mm (1/2 to 2 inch). All products have been developed to meet requirements specific to the final application.
Product
SoliPaper
The SoliPaper product range consists of uniform, lightweight, low shot and flexible paper-like products. SoliPaper is particulary suited to all applications requiring further processing (laminated composites, die-cutting, rolling, folding) and can easily be converted to gaskets in domestic boilers.
SoliPaper is very flexible, but offers a high tensile strength thanks to the high fiber index. Actually, our product had such and high fiber index that we needed to created a 'industrial grade', called 'LOWPAC' for the gasket making industry.
Compared to standard high paper products the LOWPAC is still outperforming most competitors, ensuring mechanical sealing and good air tightness. For high volume gasket cutters this SoliPaper ULS LOWPAC is the preferred product of choice.
SoliPaper is available in both Refractory Ceramic Fiber (RCF), Low Bio Persistence (LBP) and Polycrystalline Wool (PCW) fibers. The top of our SoliPaper product range is the SoliPaper PCW which is based on an unique chemical composition which consists of approximately 80% Mullite fiber and 20 % of our SoliWool HA fiber. The result is an excellent strong high temperature paper with a classification temperature of 1600 C (2900 F).
To guarantee the quality of our SoliPaper we have a fully automatic X-ray density and thickness control. This quality control system is ensuring that 100% of our SoliPaper is manufactured within specification.
SoliPaper is available in a thickness range from 1 to 10 mm and offered in both standard and jumbo rolls. Standard rolls are packed in carton boxes, jumbo rolls are supplied with 4 pieces per pallet with indvidual heist belts for swift unloading.
Product
SoliBoard
Vulcor is offering one of the most extensive product ranges in high temperature board products. We offer a complete series of standard boards, a high strength series which is both offering higher green strength as better strengh after first firing, and a special series which are manufactured from mixed fiber chemistries (typically using very high temperature resistant PCW fibers) for the most demanding applications.
The SoliBoard  is manufactured in our unique continious production process. You are reading this correctly; our board is not manufactured in a batch vacuum forming method, but on a state of the art high output continuous board line.
We utilize a highly efficient drying technique which does not only reduced our energy consumption with 50 % compared to conventional forced air drying, but also allows us to manufacture uniform, lightweight, low shot and stable board to a thickness of 100 mm at high consistency, quality and performance.
As a result the SoliBoard, compared to other types of board, offers better machining characteristics in CNC cutting. With SoliBoard you can tailor the raw board into a precission machined shapes. Our SoliBoard range is divided into 3 groups:
Standard boards which are available in both RCF and LBP fiber
High Strength series board and Millboards
Special series boards like our SoliBoard PCW INO which offers 1600 C classification temperature and is inorganically bonded.
We know for sure that once you have been working with our boards, you will never want to go back.
Product
SoliFelt
For applications requiring insulating felt products we have our SoliFelt product range. SoliFelt is using our SoliWool fibers and organic binders. In result the final product is both strong, but remains flexible to act as a tight gasket compensating any irregularities in the refractory lining. SoliFelt has a very smooth surface, close dimension tolerances, exceptionally low dust, high handling strength, better thermal insulating performance and greater resiliency after compression.
Our insulating felts are offered in both Refractory Ceramic Fiber (RCF) and Low Bio Persistence (LBP) Fiber composition covering a range of classification temperatures from 1200 to 1430 C (2200 to 2600 F). The standard thickness range is covering from 6 mm to 25 mm, even thicker products are available on request.
Product
SoliWool Module Systems
Vulcor is offering a wide range of fiber modules including; veneering, stack, folded and monolithic fiber modules. The crown jewel of our fiber module range is our monolithic fiber module, the SoliBloc. Fiber modules are a favorite lining choice for high temperature furnaces. Modules are lightweight, offer high thermal performance, are quick to install, are resistant to thermal shock, have a low heat storage and are a good economical choice.
SoliWool Module systems are available in basically every chemical composition we manufacture: The stack, folded and veneering modules are available in all grades. SoliBloc 'monolithic fiber modules' are available in the standard grades of Refractory Ceramic Fiber (RCF) and Low Bio Persistence (LBP) fiber. All together the SoliWool Module Systems cover a range of classification temperatures from 1200 till 1480 C (2200 till 2700 F).
SoliWool Module Systems are offered in a wide range of anchoring systems designed for swift and easy installation. SoliWool Module Systems are provided with center fix or side mounted anchoring systems; direct welded or placed over a pre-welded stud.
SoliWool Module systems are taking great benefit from the Generation III, Ultra Low Shot fiber technology. As a module made from SoliWool offers; higher strength, better resiliency after compression, can withstand high gas velocities and offer better thermal insulation at given thickness. Common feedback is that our 160 kg/m3 (10 PCF) fiber modules 'feel' like a 192 kg/m3 (12 PCF) module, and we are keen to keep that kind of feedback as our standard.
As there is so much more we would like to tell you about our SoliWool Module Systems, we invite you to get more detailed knowledge by clicking on the 'read more' button.
Product
SoliRope
Last but not least we introduce to you our SoliRope product range. The SoliRope product range consist of a wide range of yarns, ropes, ladder tape and textiles based on our SoliWool fibers which are either metal, glass or inconel wire reinforced.
The maximum continuous use temperature of our SoliRope product range is mainly determined by the type of reinforcement, where glass reinforced is leading to the lowest temperature (550 C/ 1000 F), and inconel wire reinforcement (1100 C/ 2000 F) the highest. Our SoliRope product range consists of:
Yarn
Cable rope
Round braided rope
Twisted rope
Square braided rope and sleeving
Ladder tape
Cloths and textiles